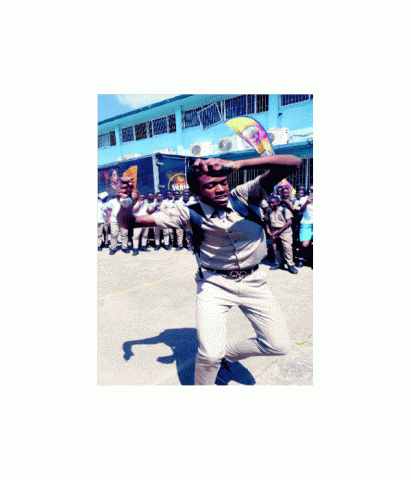 Ackeem Mckenzie showing his talent for dancing
HE YOUTHLINK/HONEY Bun High Achievers School Tour visited Treadways, PA, St Catherine, en route to McGrath High School on Friday, February 7, 2020, where fantastic animation and entertainment were put on display.
The students of McGrath High were manifestly curious at seeing the Youthlink/Honey Bun vehicle pull up on the school compound. As the teams began setting up their booths, scores of teachers and students began to gather on the scene as well as on the elevated corridors.
"Sir, are they going to give us those Honey Bun snacks for free?" asked a curious first-form student who was eager to get his hands on a cinnamon roll. He was later instructed to purchase a copy of Youthlink in order to have one of any of the Honey Bun products and a Sparkling CranWATA. The tour soon commenced with the highly amusing Honey Bun Modelling Competition which saw Julicia Ennies claiming victory among her opponents.
Soon after, the McGrath High
Achievers and the $10,000 grant winner Tyrique McDonald were named. The tour then progressed well with the phenomenal dance-off competition which lured everyone to form a circle around the dynamic dancers. Akeem McKenzie was the clear winner after presenting an exciting piece that was highly alluring to his audience. His moves were magnetic – pulling many of his supporters to join him onstage.
Jingle competition winner Rackeba Wallace also gave a performance that was well-received by her peers. Their screams echoed around the school ground when she was declared by the MC, Cornelius Grant, as the Sparkling
CranWATA Jingle Competition champion.
"The time shared enjoying Honey Bun products and Sparkling CranWATA was splendid! Students got an opportunity to express their love for great entertainment while competing for awesome prizes," said a vivacious teacher, Anna-Kay Chamberlain, who was actively participating in the many proceedings. "This was another exciting stop where we definitely felt the energy of the students in accordance with the various segments of the tour.  McGrath High has played its part in being among the schools we can now boast about!" Cornelius stated. This season's tour ran from mid January to the end of February, and was sponsored by Squeezz and SparklingCranWATA. 
AWARDING
Top students from second – fifth form (1 Male, 1 Female) Top student from technical area; Visual Arts/Building/ Engineering Technology (this student will be given an opportunity to get his/her work published in The Gleaner's
Youthlink) One (1) outstanding student from sixth form
PRIZES:
Each student will receive a co-branded high achievers badge and a package/goodie bag from The Gleaner or Honey Bun One of the outstanding students will also walk away with a $10,000 grant (a student who has done well despite a bad situation – challenging family situation, etc.)