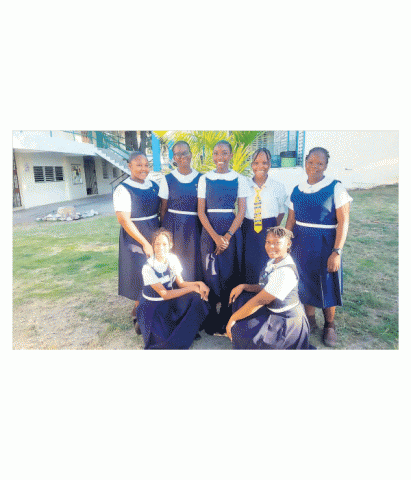 CROSS THE island, team competed and was placed sixth overall; now robots are revving as they're back with new members to attempt to take this young science, technol- year's title. ogy, engineering & mathematics Competing will be Dejanay Pinto, an engineer, (STEM) students design, build and programmer and driver who also represented Jamaica in test their competing robots for the FIRST Global Challenge in October 2019 in Dubai; second staging of the FIRST Tech Keyanna Green, an engineer and a driver in charge Challenge Jamaica National Robotics of formulating and executing the business plan; Gabrielle Hanniford, an engineer and a driver; Abigail Graham, an engineer, programmer and driver; NykaylaTerrelonge, an engineer who also formulates fundraising ideas for the club; Sannica Walker, an engineer; Tiandrea Spence, engineer and graphics designer; Danae Peters, an engineer; and Lyrona Hall, who works on sponsorship for the club. Designing, building and testing robots for the competition is not an easy feat. Davisco expressed, "We meet daily to work on the robot and documents for the upcoming competition. We have been working on the design and testing of the robot since September 2019 and have had to remodel the robot twice.' You Couldn't STOP But PREGS Can.
"The robot, Omega, is currently designed to drive towards each stone (block), pick up a stone, drive towards the building site and place the block on the platform. The robot is expected to stack the blocks on each other to build a skyscraper," coach Davisco explained.
According to her, "Robotics brings out STEM in our brainstorming of ideas regarding the build of the robot and working together to accomplish the task given in the description of the FTC competitions. In designing and building the robot, we have to use computers and various hardware devices to create a program that is used to control the robot. In designing the robot, we utilize engineering and mathematical skills to ensure that the robot meets required specifications. The most important lesson that is learnt from our involvement in the FTC competitions is learning to work with each other on the team and also working with other students from other school and upholding FTC's philosophy, which is 'Gracious Professionalism'."
On Friday, February 28, and Saturday, February 29, an anticipated 30 high schools from across the island will convene in the Karl Hendrickson Auditorium at Jamaica College for the second staging of the region's biggest high-school robotics competition, the FTC Jamaica National Robotics Championship, to determine which participating school has built the best robot. Two winning teams will travel to the US to compete in international tournaments in April.
When asked to comment on the team's chances of winning the competition, Davisco expressed, "We are aiming for the best, and we are hoping that our efforts will put us at the top."