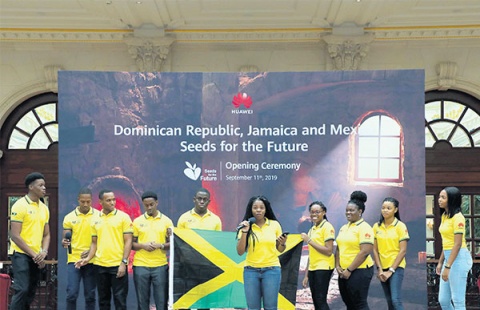 The Jamaican students during a trip to China for cultural exchange programme, courtesy of Huawei.
A totak of 30 university students from Mexico, the Dominican Republic and Jamaica were recently in China for a training programme offered by tech giant Huawei. The programme, called 'Seeds for the Future', is aimed at spreading knowledge, increasing awareness of and interest in information and communications technology, and encouraging broad participation in digital communities, according to the company.
The students visited the company's office in Beijing and its headquarters in Shenzhen during the two-week programme, which ended on September 20.
It offered the Latin American students a great opportunity to experience technological advances that China has made, said José Luis Bernal, Mexican ambassador to China. Jordan Madden, a Jamaican student at The University of the West Indies, said he was excited about the opportunity.
"Since arriving in Beijing, I've been able to see so many different types of technology, which have given me a lot of ideas that I hope I can bring to Jamaica," he said.
"There are endless possibilities for 'future seeds', and I hope everyone can learn from this programme and contribute to the development of information technology in your countries," said Zhang Ruijun, vice-president of Huawei's Latin American operations.
By the end of 2018, more than 30,000 students from over 400 universities around the world benefited from the programme, including some 4,700 students invited to China for training.