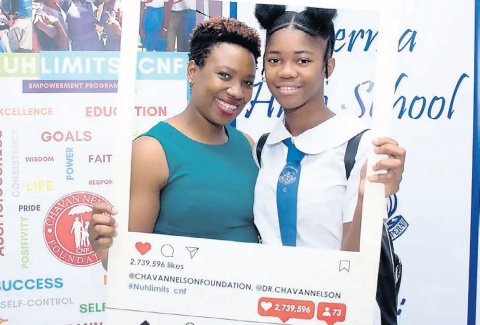 #NUHLimits ambassador Pricella Dawson poses with a student from Mount Alvernia.
This year, the ChavanNelson Foundation (CNF) Limited relaunched its #NUHLimits_CNF Empowerment Programme for youth at four high schools in four parishes: Clarendon, Hanover, St James and Kingston & St Andrew. Between February 1 and March 27, the #NUHlimits_CNF stopped at Denbigh, Rhodes Hall, Papine and Mount Alvernia high schools.
The #NUHLimits_CNF is more than just a programme of motivational sessions; it is a statement of resilience and audacity in the face of failure, negativity or disappointment. In times such as these, students need to hear from other young people who themselves have gone through great obstacles to become successful in whatever area of life they have pursued. The selection of ambassadors this year did not disappoint, as these are young people blazing the trail of excellence in law, finance, international relations, community service, advocacy, STEM, entrepreneurship and youth development. Children listened as these speakers became tangible examples of success amid obstacles; #NUHLimits_CNF ambassadors used their #NUHLimits testimonies (life stories) to inspire greater dreams, ambitions and hope during their delivery on the topics the staff has selected for them.
This year there were two special features. First, the talented Unlimited performed his hit single, Keep Your Dreams Alive at each school. Second, an academic grant fund was offered to students who attend schools that host the programme. Students matriculating into tertiary or vocational training institutions will benefit from the bronze [level] category.
"I had the opportunity to visit Papine High in Kingston and, based on my personal experience as a speaker, the programme had an immense impact on the lives of the students. Majority of the students were receptive and asked varying questions. Noticeably, the students asked questions which required me to think beyond the initial topic. They were eager to hear of my personal experiences and expressed their interest in the work of the foundation. I was challenged to change my style of delivery to ensure that they remained engaged."
The students gave rave reviews for the programme and its speakers. According to one student, "The sessions were entertaining and open. The discussions were very interactive and I, among other students, felt free to express myself. Certainly, I was empowered and motivated. I gained reassurance that I can obtain anything. The presenters shared parts of their personal experiences which made the sessions a lot more engaging and comfortable."
In general, they believed the programme was student-centred and informative. Overall, it was given excellent marks by the students, with a 100 per cent favourable response to factors such as the overall programme, and 80 per cent, on average, for the speakers' selection and impact. (Calculated based on survey done.)