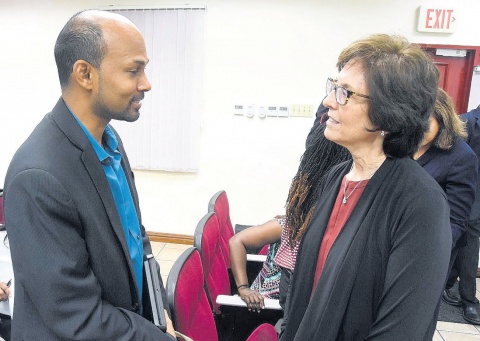 Dr Karen Loch, team leader and professor, international business, Georgia State University, with Craig Perue, senior consultant, Centre of Excellence, Mona School of Business and Management (MSBM), at the public lecture on Strategy Transformation Enabled by Information Technology, hosted by the MSBM on Thursday, March 14.
As many companies adapt to the shift of information technology to drive better decision-making, the Mona School of Business and Management (MSBM) at The University of the West Indies (UWI) has posited that the practice of strategy is not isolated from technology but rather that the adoption of information technology should be considered a part of change fulfilment.
This view was expressed by Dr Karen Loch, professor, Robinson College of Business, Georgia State University, during a public lecture and knowledge-sharing session hosted by the MSBM and the Quality Assurance Unit, UWI, on Thursday, March 14.
Loch, whose expertise is in international business and the use of information and communication technologies to bring insight to real-world business problems, presented a research study that showed how a senior leadership team, through the use of information technology, engaged various departments to effectively transform an organisation.
Ambassador Ralph Thomas, strategy director, MSBM, explained that conversations around the use of technology should be focused on how it can be used to effect transformation in business.
He noted that in the global business environment, Jamaica is faced with many challenges, especially in adapting to global standards.
"I think there is a lot we can do with this and similar case studies by assessing the takeaways and seeing how they can be aligned to Jamaican companies as we tend to be more outwardly customer-focused and not globally aligned," Thomas said.
He noted that though challenged to find the balance between the use of technology in the learning process and face-to-face engagement, the MSBM was dedicated to providing technologically enabled learning experiences for students.
"We are adapting more to the changes in an effort to understand how we can work more with technology to make it an enabler of all that we do. It is a fantastic enabler of improved learning as technology can be both cost-effective and efficient because we can reach our students 24/7," he said.
The public lecture was attended by a cross section of persons representing academia and industry, who engaged in a robust discussion during the question-and-answer session following the lecture. The hosting of the public lecture is part of MSBM's continuing efforts to engage the public on strategic issues that affect both the public and private sectors.