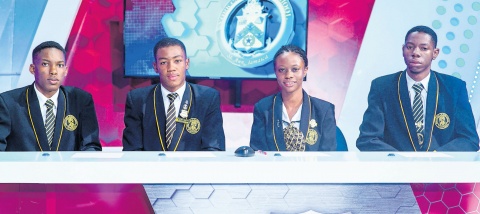 York Castle team members.
Match 15 of the 50th season of Television Jamaica's Schools' Challenge Quiz featured number 28-seed Merl Grove High School from St Andrew and number 37-seed York Castle High School from St Ann. Merl Grove High School won the toss and allowed York Castle High School to go first. York Castle had the lead from the beginning of the match, gaining five points to Merl Grove's two points in the Opening Challenge. In the second round, Merl Grove gained 10 points, while York Castle High School doubled Merl Grove's Speed Section total, gaining 20 points. During the break, Merl Grove got a point for an answer that was initially given as incorrect.
Going into the Buzzer Challenge, York Castle did not crumble under the pressure and ended on 29 points to Merl Grove's 17. The supporters of Merl Grove cheered on their schoolmates, even though they lost the match.
While Merl Grove's coaches refused to give a comment, Jerohn Brown, coach of York Castle, expressed his gratitude for the win. "The performance today was a bit disappointing because I know they (York Castle quiz team) could have done better, but they put in the work and the work paid off," he concluded. He further stated that they will be working on the buzzer section and coming back for round two even better.
York Castle will face Campion College in round two of the competition.