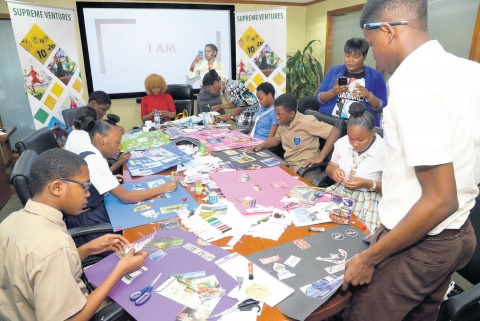 Students from five Corporate Area schools compose their vision boards in earnest at the first Supreme Ventures' Vision Board Party workshop, held at the gaming company's New Kingston office. The event was facilitated by popular motivational speaker and We Inspire Ltd CEO Cortia Bingham. The workshop was aimed at helping the teens envision the goals they wish to achieve in 2019.
Twelve students from various schools across the Corporate Area were hosted at the Supreme Ventures Limited (SVL) head office in New Kingston for the gaming company's first-ever Vision Board workshop. The workshop, an integral part of the Supreme Ventures Vision Board Campaign, #mysupremevisionboard, is another unique outreach opportunity by SVL to expose students to creating motivational strategies that would bring them closer to their dreams in 2019.
Facilitated by We Inspire Ltd CEO and motivational speaker Cortia Bingham, the students explored their aspirations for 2019 by creating their first ever vision board. The vision board, a collage of images, pictures and affirmations of one's dreams and desires, is designed to serve as a source of motivation while using the law of attraction to attain these goals.
"I feel like this workshop was a blessing and a great experience for me. It was an opportunity for personal growth, while I learned about the power of manifesting my goals and dreams. The workshop brought a lot of things into perspective for me and made me realise that no matter how big or small a goal is, it's achievable," explained Tajean Hall of Ardenne Preparatory and Extension High School.
MEDITATION SESSION
Students were also taken through a guided meditation session to facilitate a clearer picture of their big vision by connecting their heart's desires to the areas of their lives that they wanted the biggest change. They were encouraged to be clear on their goals and to connect with the persons in their lives who would be on this journey with them.
"When the average person thinks of a goal, many go for goals that they think they should be going after. These usually come from the head, they are normally sensible, logical and realistic. However, the vision board encourages one to connect with their heart, to focus on the things that light them up, bring joy, and the things that truly make their heart sing," explained Bingham.
As part of the Supreme Vision Board campaign, SVL had also launched a social media campaign encouraging their followers to submit a video presenting their own vision board for a chance to win $50,000 towards attaining one of their goals for 2019. Entries for the competition closed on Friday, February 1, at 4 p.m.
"The workshop really helped put things into perspective, so I know what steps I need to take to be ready for the future while setting myself apart from the rest," noted Tatiana Howell of Camperdown High School.
SVL hosted students from Ardenne Extension, Dunoon Technical, Camperdown, St Jago and St Catherine high schools.
We Inspire Ltd CEO and motivational speaker Cortia Bingham gives an empowering welcome to the students who attended Supreme Ventures Limited's (SVL) Vision Board Party workshop, held at the company's head office in New Kingston on Friday, January 25. SVL invited students from five Corporate Area schools to participate in the workshop aimed at helping them create vision boards for their goals for 2019.