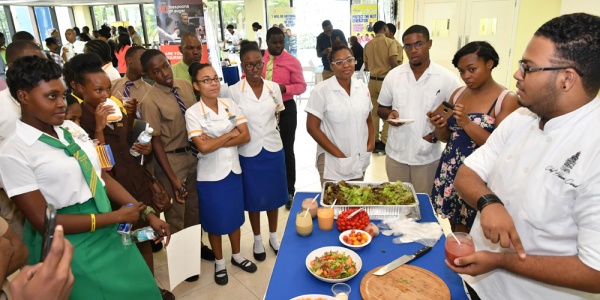 Chef Haleem Card wows the crowd with his tasty samples
Thursday, February 22 nd saw the ninth staging of the Jamaica Cancer Society's Healthy Lifestyle Youth Forum held at the Courtleigh Auditorium in New Kingston. Scores of students from high schools across the country turned out to take advantage of interactive presentations by various speakers concerning tobacco use, healthy eating habits and exercise.
Shullian Brown, Public Relations Officer in the Society says the event is the organization's way of tapping into its youth audience. "Jamaicans youth start smoking as early as the age of twelve and so this forum is to provide information to students that they would not necessarily obtain in a classroom setting," she told Youthlink.
Speakers included the Minister of Health, Dr Christopher Tufton who offered greetings and encouraged the participants to get active, Terry Baker, Senior Medical Officer at the National Chest Hospital, and Mark Johnson of the Jamaica Defence Force whose 'Dancersize' presentation had the young crowd on its feet.
Vonetta Nurse of the Heart Foundation presented on the topic "Eating Healthy Matters". She said, "It's the first time Obesity Prevention Project is partnering with this event. The students were very receptive; a lot of times we drink sugary sweetened beverages and we're not aware of what we're consuming so I think they (students) will probably try to improve their diet for a longer, healthier life."
In the end it was evident that students were able to take home vital information in an atmosphere of interaction and excitement. Tarrant High fifth former Wayne Harvey summed up his experience by saying, "The day was very exciting, I learned a lot. The smoking presentation stood out for me because I have lots of friends and family members who smoke; now, I can teach them about the risk factors and how they can prevent certain illnesses."