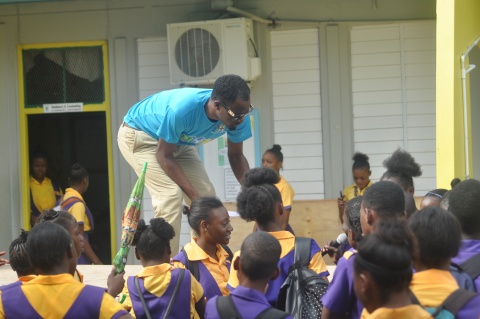 Youthlink Writer
Lamando Shepherd
Youthlink recently went to the vibrant Hopewell High school, to capture the launch of the HYPE (HealthyYouths Positive Energy) and Wellness program in their school's extracurricular activities. During the event students as well as teachers got a firsthand experience of what the HYPE program had to offer.
The program is an initiative which establishes a collaboration between the National Health Fund (NHF) and the Ministry of Health, to provide basic health needs for students from the primary and secondary level.
This is done by providing participating schools with a Cap of $25000 per school term, to aid in medical expenses which the school may have acquire during that period. Denese Patterson, the event's manager, who is also the school nurse along with the NHF organized a series of events for students to part take in.
One of the major events, was the medical screening which was used to identify the possible presence of an as-yet- undiagnosed disease in individuals without signs or symptoms. Another being the stage performances, competition, by students as expected which brought humor to the day's activities. To conclude, guest speakers got a chance to portray how they aid in the medical felid and how their service can impact the lives of students.