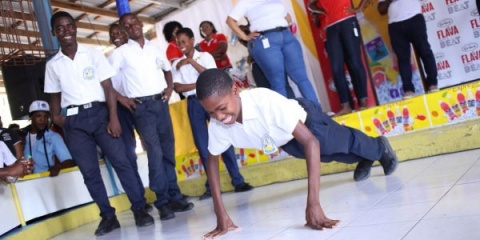 As the 2018 staging of the ISSA-GraceKennedy Boys and Girls' Champs draws near, the Grace 'Flava with a Beat' Champs School Tour made its fifth stop at Hydel Group of Schools on Wednesday, February 28. The Grace team was met with high energy and vibe from the student body, which was eagerly anticipating the day's activities. Although students were all seated in the auditorium, this didn't stop them from bringing their own 'Flava with a Beat'!We caught up with channel, programmes and promotions manager at Grace Foods, Ricardo Smith, who gave us his thoughts on the tour so far.
"We started with KC, and it was just crazy, crazy, crazy. We, the good food people, went out and executed an awesome school tour. We've been getting lots of views on social media, we've been posting and updating Instagram, Facebook; you name it, we are there. Everyone knows about the Grace Flava with a Beat tour," stated Smith.
"The critical thing is to get the message across. Here at Hydel, there is positive energy and high intensity and, guess what, the kids are actually sitting down in chairs and it's still pandemonium! This positivity is what we will be taking to the final stops when we go," Smith added.
Badda Bling, the resident MC on the Flava with a Beat tour, brought the crazy vibe as usual. The 'Flava with a Beat' dancers rattled the crowd with the signature dance, 'Flairy', and engaged Hydel's most talented dancers in an exciting dance-off competition. The crowd's favourite competitions, the 876 Water DJ Clash and the Grace Food Drink model competition, showed off the 'flava' and beat of the students as they showed us just how they bring the vibes! The students were also given a taste of Champs with the high-energy Lucozade relay competition. The giveaways, including Grace signature headphones and baskets of Grace goodies, were just as plenty as the vibe at Hydel, and Youthlink's very own newspaper race made two lucky students very happy!
Assistant Global Category Manager V.J. Tolan shared the importance of GraceKennedy having their own school tour this year.
"GraceKennedy is the title sponsor for Champs, so, for us, it was very important to come in and do the Champs tour on our own. We have our own message that we want to convey to the students, our products are here for sampling, we have gifts to hand over to the track team, and we've been spreading our message of positive expression, nutrition and high energy from Grace Foods to the schools," stated Tolan.
Grace Kitchens provided some healthy and nutritious franks, corned beef, tuna and macaroni dishes at Hydel, while Lishous, the title sponsor, 876 Water, Lucozade and, of course, Grace Food Drink, kept them hydrated and refreshed.
"Grace Food Drink comes in four lovely flavours - tropical strawberry, smooth vanilla, butter almond and walnut caramel. The students are enjoying it so much, we now have parents going into the supermarkets to pick it up for them!" Smith exclaimed.
We were also able to get the inside scoop from Corey Bennett, track coach at Hydel Group of Schools, on his expectations for the upcoming championships.
"Well, Hydel plans to compete like we normally do. We've never won, but we have always been fairly competitive, placing second for the past three years, so hopefully we can maintain or improve. The team has been working hard, trying to prepare methodically since September. Steadily, there has been some rain that threw us off, however we've caught up some ground and had a fairly good run at the last Gibson Relays. Let's hope that we get it right for Champs this year. We have many rivals out there and we sometimes get sidetracked by the negativity off the track. Grace's theme of positive expressions sums up perfectly how we want to approach Champs and keep focused on a positive road."
We also got the coach to give us a few fun facts about Hydel!
Five Fun Facts about Hydel Group of Schools' Track Team
 Hydel has placed second in the ISSA/GraceKennedy Boys and Girls' Champs for the past three years.
 Hydel has been competing in Champs since 2010, which is less than 10 years, and is already doing so well!
 The first year Hydel competed in Champs was actually the 100th-year celebration of Boys and Girls' Champs.
 In the first year Hydel competed in Champs, the team had only four girls. This four-girl team still managed to place 11th out of the numerous schools that entered.
 One of Hydel's star athletes, Monifa Green, has been doing consistently well! She even represented Jamaica in the CARIFTA Games and the National Cross Country Championships.
The next stop of the Grace Flava With a Beat high school tour will be in the cool parish of Clarendon to bring the hype to the reigning champs, Edwin Allen High School! 
Hydel gets a taste of champ.