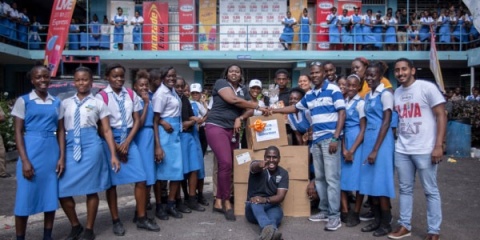 Champions - Edwin Allen High School!
The Grace Flava With A Beat Champs School Tour would not be complete without a visit to the Edwin Allen High School. On March 2, the Grace Team packed up and headed to Clarendon where the students proved why they are the reigning girl champions - not only in Track and Field, but in vibes and talent!
"The vibe here today is positive all around - positive thinking, positive attitude, positive energy. Now you know why Edwin Allen is always coming out on top for the Girls' school. The students are excited and Grace, as usual, has the activities, iveaways and goodies to bring flava and substance here today," stated Angella Grandison-Reid, Consumer Services Manager at Grace.
Packed corridors and crowds greeted the Grace team at Edwin Allen and from the start, the excitement and fun never stopped. MC Badda Bling took a moment to engage the students in a motivational session where he made sure to talk di tings dem about peer pressure, the benefits of education and other important topics.
Then came the competitions and our favourite Grace School Tour activities were as exciting as usual! The "Flairy" dance-off competition even featured a mother-daughter combo, with one of Edwin Allen's teachers and her daughter who also attends the school. In addition, the 876 Water DJ Clash and the Grace Food Drink Model Competition brought out the students to see who would walk away with one of the great giveaways from Grace, which included gift baskets, Grace products, headphones and bags.
Even the Coach of the Track Team, Michael Dyke, got in on the action! In a Strong Man competition, he went head to head with some of the members of the Team to see who could do the most push ups! When asked about what he thought of the day, he said, "I think it's great that they're here today. It is good for the school community to have Grace come and show support to us. We have been preparing for Champs from September and, in terms of nutrition,
we've gotten support from Grace which has helped us to keep our athletes in good physical condition."
Grace was only too happy to support Edwin Allen and the other schools on the tour prep for Champs. "This tour was very important for us. We are the title sponsors of ISSA/Grace Kennedy Boys and Girls Champs and we are also at every developmental meet. We have been present at developmental meets since 1975 and we believe that this is very important for nation-building and taking this country from grassroots to greatness. We wanted to identify with the students
and so we came to them, to help them build talents and hone skills. Grace is preaching not only good nutrition and hydration, but positive expressions so they can be champions on and off the track," said Grandison-Reid.
No surprise, Edwin Allen fully intends to remain Champions on and off the track! They have high expectations for the 2018 staging of Champs. We caught up with Kamoy Farquharson, the Captain of the Track Team and she shared her own feelings about Champs. "My favourite thing about Champs is the spine-thrilling feeling of it, the awesomeness and the competitions all-round." Like her favourite athlete, Veronica Campbell-Brown, she intends to give her all on the track and to encourage the girls on the Team to do their extreme best at all times. Between Kamoy and Coach Dyke, we were also able to learn some fun facts about Edwin Allen's Track Team.
Five Fun Facts about the Edwin Allen Track Team
Coach Dyke is no stranger to Edwin Allen. He was once a student! He returned to hisalma mater more than twenty years ago with the intention of putting the school on the map where Track and Field is concerned. I'm sure we would all agree that he's succeeding!
The girls on the track team are always excited for an outing or reason to celebrate. Invitational track meets, events at school, birthday parties, you name it! 
 KFC is a motivator that Coach Dyke uses to get the girls to put out their best! Now it's one of their favourite traditions - Win Champs and the entire team goes for KFC.
Although excited at the prospect of KFC, the Track Team still prefers Easy Training Day - no 300s, 500s or 600s. When it is Easy Training Day, everyone is happy!
 One of the greatest moments for the school was the first win at Champs in 2012! it revolutionised the school and brought in support from past students and
The Grace Flava With a Beat High School Tour will wrap up with its last stop at Holmwood Technical High School and you don't want to miss it!