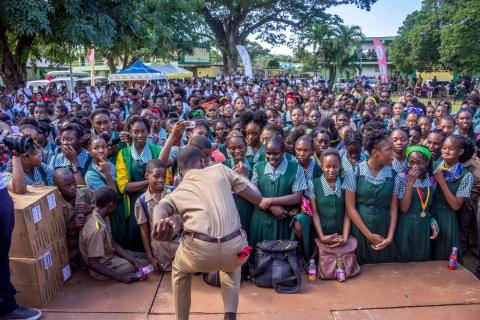 St. Jago High was the fourth stop along the Grace Flava With A Beat Champs School Tour where the Grace team brought the vibes and the 'flava' on Tuesday, February 13th. St. Jago is one of the few schools that represent in both Boys and Girls Champs, and last year came 3rd overall in the Girls competition, and 4th in the Boys.
The day after this tour was Ash Wednesday, and what does that mean? Holidayyyyy!! So, the student body was already pumped and the Grace team's activities was the icing on the cake! MC Badda Bling, the Grace Flava-full dancers and the Grace team brought the vibes and the excitement and as Roje Stona, Captain of the St. Jago Boys Track Team, said "The Grace team is really bringing us all together today and giving us bere vibes and energy for Champs."
Having participated in Champs for 2 years, Stona is back with a vengeance, and will definitely be one to watch this year in his two field events: shot put and discus. With Olympic athletes like Fedrick Dacres and Usain Bolt as his idols, Stona is bringing his all to this Champs season and says his favourite thing about the competition is the final day when everyone is full of vibes and excitement, he says "It gives me the energy to compete even better". 
Meanwhile, MC Badda Bling kept the energies high as usual with the strong-man competitions, lyrics clashes, modeling and giveaways from the sponsors, Grace Lishous, Grace Corned Beef, Lucozade and 876 Water. The Grace Kitchens team satisfied those after-school appetites with Grace Corned Beef and Pasta and Grace Franks. 
Assistant Global Category Manager, VJ Tolan, told us that it's so important to Grace to "engage the athletes, especially with the message of Positive Expressions." The Grace team will be creating a video series along the road to Champs, highlighting this message as well as engaging with the student body and star athletes to speak, not only about the sport, but also showing a different side of the athletes and really catering to the teenagers - viewers can follow these videos of the road to Champs on Grace Foods' social media platforms @gracefoods.
In the midst of all the excitement we caught up with one of St. Jago's female track superstars, Joanne Reid. She's been running for about 10 years now, and in this her 5th year at Champs, she is planning to dominate in her Class 2 races, 200m and 400m. "Well I started running from basic school and from the winnings start sweep me at basic school I never wanted to stop!" The teenager has already made it onto the world stage, representing Jamaica in Carifta in Curacao
and the World Youth Games Under 18 in Africa.
"It was a phenomenal experience being able to represent my country on the world stage - I discovered new things, saw new people and places." When asked who her favourite athletes are she said "I really look up to Alyson Felix and Shelly-Ann Fraser-Pryce because they both came from poor backgrounds but were dedicated to the sport, took their education seriously and have now come out on top." Joanne's plan for Champs is to win 400m. Her strategy? Eat good Jamaican food. "Yam, banana, dumpling, drop some Grace Mackerel and Corned beef in there...it gives you the nutrients you need to prepare to win Champs." Her ultimate goal is to make it to the Olympics to represent Jamaica.
Rahnsomn Edwards, Coach, Sprints, Hurdles and Relays chatted with us for a bit about Champs prep, training with St. Jago and Champs then and now. "This is my 2nd season with the St. Jago team. There have been numerous challenges but  sometimes challenges are good, they tend to make you work even harder. If the challenges are not great enough, sometimes we can get complacent."
The St. Jago team started their preparation in August 2017 with general preparation and conditioning to build stamina and fitness, then by November, they started training geared more toward the individual athletes specific events. When asked about their training program, Coach Edwards stated how key a good diet is, "Nutrients are vital. They give the athletes the necessary energy. The more energy they have the more effort they are able to put into training and the more effort they are able to put into the competition itself. So the nutrients play a significant role in repairing muscles, especially in those who have been injured"
Fun facts:
St. Jago is one of the few schools to be so prominent in both Girls and Boys Champs. They won the Boys section in 1987 and 1993, with numerous wins in the Girls Championship
 Roje Stoner was formerly a high-jumper, but changed to discus and shot-put as he got older, taller and heavier, as he now stands almost 6ft tall
Coach Edwards was also a Champs competitor - he was a 400m finalist in 1993 representing Ferncourt High School
Being a former athlete himself, Coach Edwards reminisced about what training was like then, compared to now. "That was in the early 90's, the science wasn't so much involved in coaching, the sport has evolved, coaching has evolved. The athletes are running faster now, they are throwing further, jumping higher, it's a whole different ball game. When they merged Boys and Girls Champs in 2000 I think that was the best decision they could have made. The spectator turnout has increased, interest has peaked and the stands are full to capacity year after year."
Our next stop will be at Jamaica College, where Grace will be bringing you Flava with a Beat!