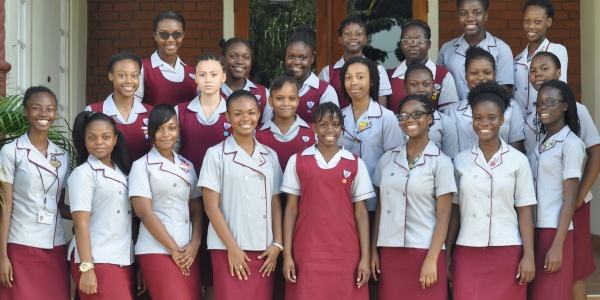 On November 2 nd 2017 Youthlink got the chance to experience the school located in the garden which was deemed by one of Jamaica's prolific magazine, HHG (Health Home and Garden). Youthlink was given an unforgettable tour to show the Uniqueness of St Andrew High School for Girls, and why they currently stand as one of Jamaica's Top performing high school. 
On September 21 st 1925, the Jamaica High School for girls, as it was first called opened the recently purchased dwelling house on an 8- acre site on Cecelio Avenue. The aim of the school as set forth by the promoters was "to provide secondary education for boarders and day schooler." The school started with 10, day girls and 11 boarders, but grew rapidly so by that October 1929 when it was recognized by the schools' Commission for grant-in- aid, there were 153 girls in which 51 were boarders. In that time the school also came to its current name which is St. Andrew High School for Girls.
The school then went through a number of changes where the school's the infrastructure became a lot more modernize to suit the needs of the students. With these changes by 1965 Boarding accommodations was phased to give room to the additional subject classes. In 1978, a shift system was put in place enabling the school population to be increased. This did not last for long seeing that in 1988-89 the school constructed a new block by the help of a $1,000,000 loan by the Victoria Mutual building society. The school introduced the sixth form program in 1991 then upgraded to St. Andrew Community College in 1993, just as their shift program that was short lived so by August 2001 the college was close, giving life once more to the sixth form program.
Youthlink also got the chance to interact with some of the school's clubs and society, two of them being the Angels of Love-a not so popular group in schools, which is also a charitable group who provides opportunities to enlighten students about what cancer victims are going through and also organizes fund raisers, where all proceeds go to their main charity group Angels of love. The other group was the school leaders who explained to us how they aid in maintaining the disciplinary level at the
school. They also wanted to leave a small phrase as a message to their fellow school mates which states" The lessons learnt at St Andrew High School for Girls are not only for school but for life, so cherish them""
The school has a lot to boast about from the frequent property renovation, academics, extra-curricular activities and even being featured as one of Jamaica's most beautiful High School. Mrs Sharon Reid the school's principal also gave a few of her proud accomplishments while being the head ancho. Cals (Center for Career Advancement Leadership and scholarship) the most recent, was establish to provide more career opportunities, to educate students on college enrolment and also provide a
number of scholarship opportunities. Another proud accomplishment was the BOYD (bring your own device), Its main purpose is to provide students with adequate access to information and it was even introduced before the tablet system in schools. The school does not face any major problems as advised by Mrs Reid, but one of their major challenge would have been keeping the schools disciplinary level constant at all times. The schools now stand at a population of 1572 student, 77 full time staff members and 27-part time. Do keep in tune, you might see the YL logo at your school.